Local Area
The Abel Tasman region home to the Abel Tasman National Park is renowned for its golden beaches, sculptured granite cliffs, and the world-famous Abel Tasman Coastal Track. With a mild climate, it's an ideal place to visit any time of the year.
Just 400 metres from the entrance to the National Park, the Abel Tasman Lodge makes the perfect base for exploring the abundant, clear, turquoise-coloured bays, and lush green native forest. The sheltered waters and stunning golden beaches and bays also make the Abel Tasman National Park perfect for sea kayaking for first-time as well as experienced paddlers.
There are several sustainability initiatives that care for this national treasure including Project Janszoon, Abel Tasman Birdsong Trust and the Tasman Bay Guardians. These organisations work to restore and revive the native plants, birds and wildlife in the park.
Mārahau is on the edge of the Abel Tasman National Park. It's as close as it gets! It's a popular place to spend time exploring and relaxing.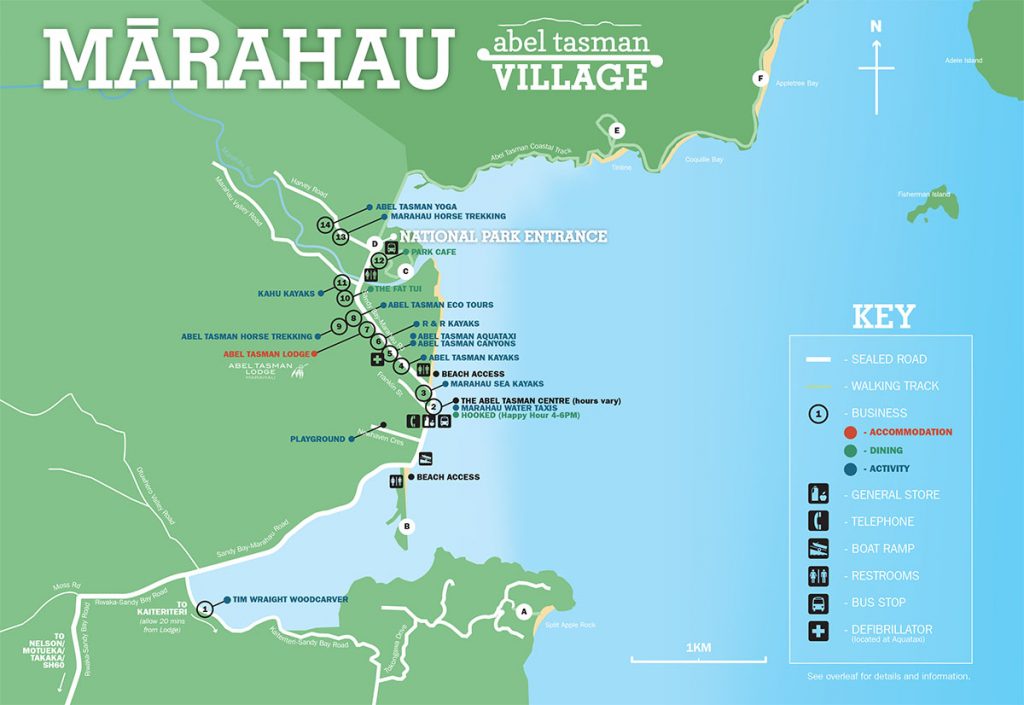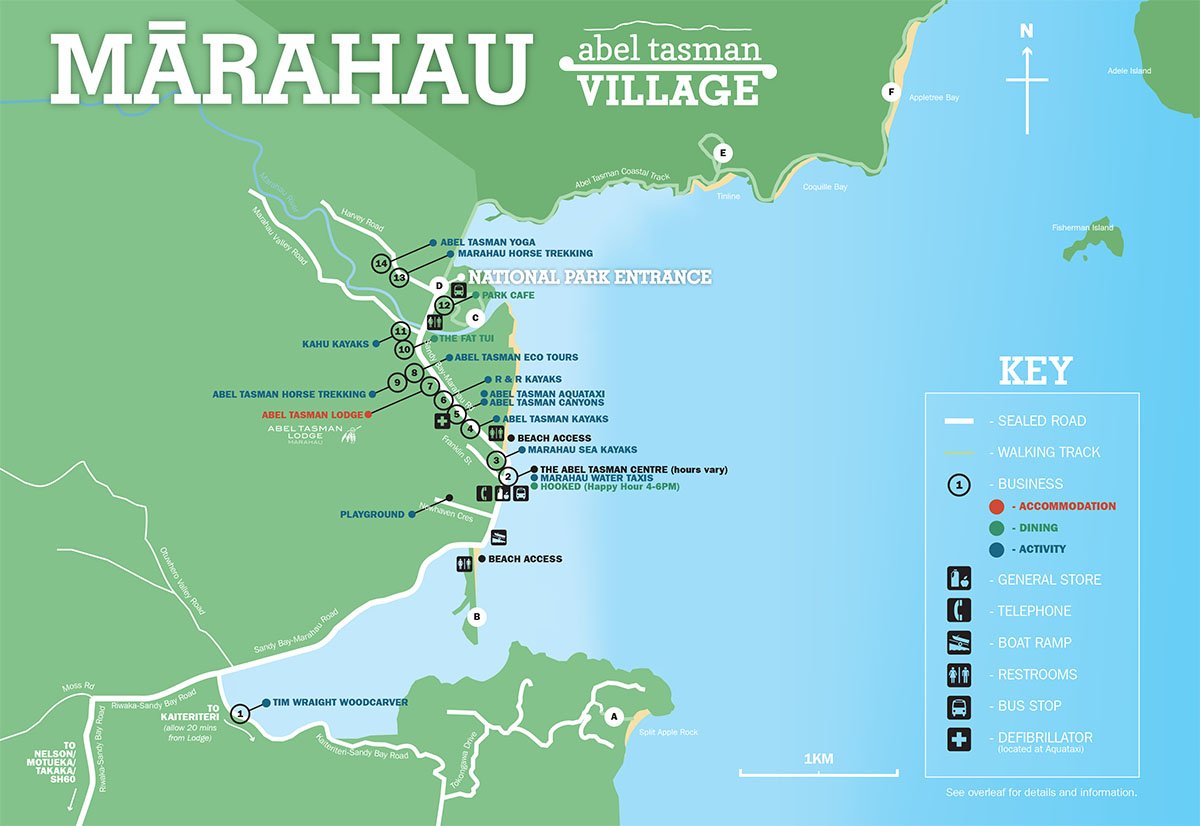 Located in
Mārahau,
just
400 metres from the Abel Tasman National Park
,
restaurants, cafés, water taxis
and
kayaking
.
The Abel Tasman Lodge provides the perfect accommodation base to explore New Zealand's finest coastal National Park.
Kaiteriteri
Kaiteriteri is approximately 15 minutes drive from Mārahau offering more golden sand and crystalline water. Kaiteriteri, a busy settlement with a café, playground, larger water taxis and kayaks. Unique to this area is the excellent 
Kaiteriteri Mountain Bike Park.
There are trails here to suit all mountain biking abilities, from beginner through to expert.
Motueka
Motueka is the main service town near Mārahau. It's useful for supermarket shopping, banking and pharmacies. It's the ideal place for picking up groceries and any other shopping requirements before moving on to Mārahau for your Abel Tasman experience. Between Mārahau and Motueka is the small settlement of Riwaka, which is 'world famous' for its hops and beer. Try
HOP Federation
 on the Riwaka main road (SH60).
Māpua & the Moutere
Nearby is the township of Māpua and the Moutere Valley region. Māpua boasts some nice cafés, restaurants and decent visitor shopping. Moutere offers a range of established along with up and coming wineries, artists and artisans. Both places are an easy 40-minute drive from Mārahau.
Golden Bay
Just an hours drive from the Lodge, the Golden Bay region provides a good day trip with several interesting short walks and 
a range of arts and crafts shopping – pottery, paintings, jewellery, sculpture, ceramics and woodworkers – based in the township of Tākaka.
You can also enjoy the unique experience of catching your own freshwater salmon at
Anatoki Salmon Farms
and then savour the taste of it over lunch or take it away vacuum packed for dinner at the Lodge.
Nelson
The largest town between Wellington and Christchurch, Nelson is an ideal place to fly into. The small, but busy
Nelson Airport
is served by several airlines with flights to and from Auckland, Wellington, Christchurch as well as several other smaller centres. The airport has good amenities with car hire and public transport. The region has a strong history of arts and crafts. While many of the artisans reside in the Tasman area (between Nelson and Mārahau), several galleries are situated in Nelson city, including the Suter Gallery and the very interesting 
Nelson Classic Cars
, near the airport.
Free booking & information service
Let us take away any holiday hassle.

Use our local knowledge of the Abel Tasman National Park to help tailor and book your activities at no extra charge.

What's more, if you book ahead, you don't need to pay for any activity until you arrive.
How do you get to the Abel Tasman?
You can drive, fly or use public transport to get to Mārahau (the Abel Tasman Village). Click
here
for detailed instructions and a list of transport providers
How long does it take to drive from Nelson to Abel Tasman?
To drive to Mārahau (the Abel Tasman Village) from Nelson it takes about 1 hour along SH60. See
Directions
for detailed instructions.
How far is Golden Bay from Nelson?
How far is Golden Bay from Nelson? To drive to Tākaka from Nelson is about 1 hour 50 minutes.
How far is Golden Bay from Mārahau?
To drive from Mārahau to Tākaka is about 1 hour via SH60.
How do I get from Abel Tasman to Auckland?
The easiest way is to fly. There are regular flights from Auckland domestic airport to Nelson airport. See
here
for airlines that fly to Nelson.
How do I get from Nelson to Kaiteriteri?
The drive from Nelson to Kaiteriteri is about 60 minutes mostly along SH60.
How far is Kaiteriteri from Mārahau?
To drive from Mārahau to Kaiteriteri it is about 15 minutes drive (10km) via the coastal route.
How far is Kaiteriteri from Motueka?
It is approximately 20 minutes drive from the centre of Motueka to Kaiteriteri.
How do you get from Abel Tasman to Wellington?
There are two main options for getting to the Abel Tasman from Wellington
1)
Fly
– There are regular flights between Wellington and Nelson . See
here
for airlines flying to Nelson from Wellington.
2)
Drive
– You can catch the Wellington-Picton ferry and then drive from Picton to Mārahau. The drive time from Picton is just under 3 hours.